Help support CentralParkHistory.com!
If you enjoy Central Park and would like to help support this site, here's how you can help. A portion of the proceeds from the sale of the merchandise listed below will be used to maintain this site.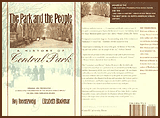 The Park and the People: A History of Central Park
All text and images for CentralParkHistory.com were taken from this book. Buy yourself a copy today!
Click on the link below to go to Amazon.com

BUY NOW!




The Central Park Poster
CentralParkHistory.com would not have been possible had it not been for a donation of time and money from the creator of the official Central Park Poster, the most famous photo of Central Park in the world! This poster comes in 3 different sizes, and is also available as a bookmark or a postcard. To find out more about this amazing poster or to order, please click on the link below.

BUY NOW!



The Central Park Map Print
All the images in the map section of this site are adapted from the Central Park Map Print. The map you see here is a small picture of this fine-art quality print. This distinctive map print is unique in that it shows the topography of the Park as well as over 57 miles of pathways, all the Park streets, 14 lakes and ponds, over 48 buildings and structures, the bridle paths, 12 adjacent museums and landmarks, and the names and locations of 31 sculptures and fountains.


BUY NOW!